Family Owned. Licensed. Insured.
Forty years of experience doing the job right —
Our work is MadeWell and is made to last!
Chimney & Fireplace
Masonry
We're Proud to Offer Our Quality Workmanship & Superb Skills to Homeowners in Memphis 
Are you looking for a company that not only offers exceptional services, but treats their customers with care and respect, too? Finding a company that hits all the boxes isn't always an easy task to accomplish, and it can get frustrating feeling like no one values their work or your satisfaction. But we've got good news for homeowners throughout the Memphis area – Madewell Masonry checks off all of the above.
At Madewell Masonry and Chimney Services we value quality craftsmanship, and we do everything we can to stay educated and up to date on any industry news, so that we can better serve our customers. We always stand by our work, and we trust that you won't only be 100% satisfied with our work, but pleased with our honesty and transparency throughout every service we offer, too.
Which is why so many hire us for the following: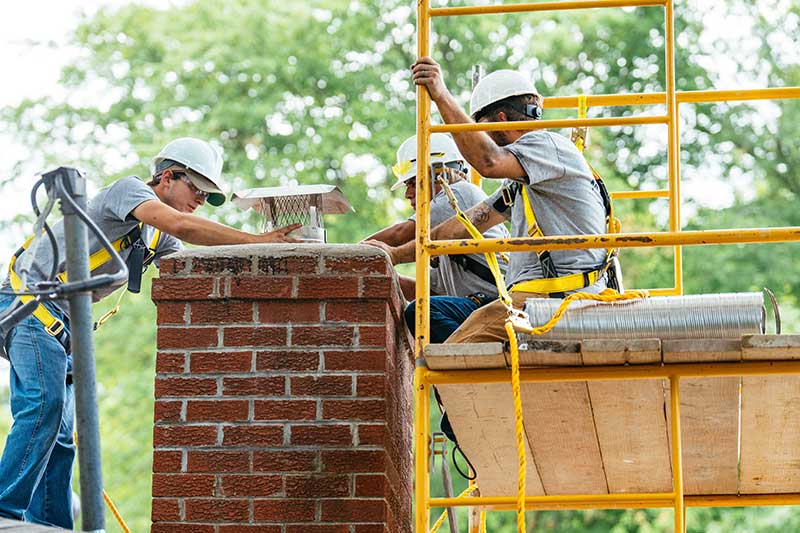 Our Promises to You
Have you ever hired someone for a job, only to be met with an endless line of delays, excuses, hidden fees, sales pitches, and other complicated issues? That's not the way it should be. They should be doing everything possible to get the job done right – taking the weight off your shoulders, not adding more on. And if you've had a couple of rough experiences like this already, you're likely wary when hiring someone to handle your chimney needs. After all, this is one job where your safety literally depends on a job well done.
As a Madewell customer, you'll always know what you're getting into, and we promise you'll be able to rest easy every time you light a fire, sure in the knowledge that your chimney and fireplace are in the best hands possible. We're here to make your life easier, which is why we offer 4 solid promises that you can count on every time you hire us.
We provide options that meet your budget.
Our goal is to find solutions that work for you. That means keeping your best interests – and price range – in mind.
We'll never surprise you with hidden charges.
Have you ever been quoted a price only to see a completely different (and bigger) total on the final bill? That's not something you'll have to worry about with us.
We always respect and protect your property.
We offer mess-free services, and promise to treat you and your property with respect and care throughout the entire project.
Our workmanship is guaranteed for 10 years.
We're so confident in our ability to deliver high-quality builds and repairs that we offer a 10-year guarantee on our work.
We're Family-Owned, Licensed & Insured
At Madewell, we're known for offering the values and personalized attention of a family-owned business, while maintaining the professionalism and security necessary to bring you the highest level of care possible. We've taken on a wide range of jobs, ranging from big, lengthy ones that cost millions to small, inexpensive ones that only take up an afternoon. 
What sets us apart is our ability to approach each job, big or small, with the same level of skill, humility, and work ethic, no matter what.
And with over 40 years of masonry experience under our belts, you can trust that you'll get the long-lasting results you deserve.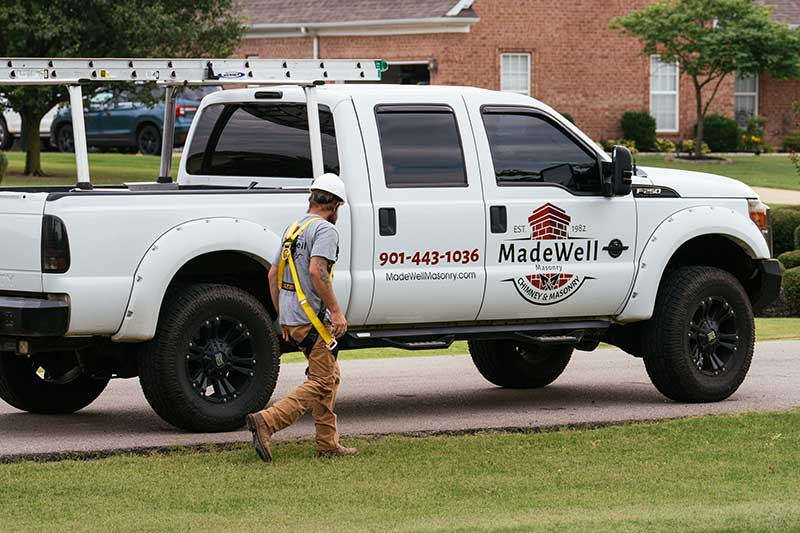 When my home was built, the builder did not do the brick properly, and our window leaked every time it rained. I hired Madewell Masonry to repair the brickwork around my dining room window, and the results were absolutely fantastic. The windows and walls keep the water out, and the brickwork looks very nice.
I was very impressed with Madewell's attention to detail, their superb skill and craftsmanship, and their professional work ethic. So, I hired them again to weather seal my entire home and do additional repairs and improvements to my walls.
Their honesty and professionalism saved us thousands of dollars! …we had a previous inspection from a separate company that said we needed over $3000 worth of repairs (plus it's an older home). We decided to get a second opinion with Madewell Masonry and I'm so glad we did! They came out to clean and inspect the fireplace and said that it was very well built and we were good to start building fires – nothing needed to be repaired! We will be calling Madewell for our future Chimney Sweeps and any other needs we may have in the future! Thank you for our peace of mind, saving us money and cleaning our fireplace! We can't wait to start building fires!
This is a wonderful contractor. If you have brick or masonry repair needs, you won't find a better company. Honest, hard workers who respect your property and do superb work. David does exactly what he says he will and stands behind his work. My chimney leak is gone! Can't imagine any more problems. If you have chimney crown leaks, cracks in mortar joints, call Madewell. You won't regret it. Kind of pricey but worth it to finally solve my problem. Highly recommend. Compare before you hire.
Our Service Area
Our service area reaches far and wide, covering various neighborhoods throughout Southwest Tennessee and Northwest Mississippi. We helped home and business owners in Memphis, Bartlett, Germantown, Collierville, Arlington, Eads, Lakeland, Millington, Southaven, Olive Branch, Hernando, and more!
Would you like to join our list of satisfied customers? We'd love to hear from you. If you live in Shelby County, Fayette County, Tipton County, Marshall County, or Desoto County, don't hesitate to reach out.
Schedule Your Next Service With Us Today
Scheduling with us is easy. Reach out to us online or give us a call at 901-443-1036, and we can set something up.
Once your appointment is booked, just relax and let us take it from there. We can't wait to give you those high-quality, long-lasting results you deserve!
Homeowners everywhere need chimney and fireplace services they can depend on. Madewell Masonry will give them that peace of mind every time.