For Chimney Leak Repairs That Last, Count On Our Professional Crew
It's on the days when the weather is bad that we're most likely to use our fireplaces. Let's face it – there's nothing much cozier than relaxing by a crackling fire when a blizzard or big thunderstorm is happening outside. That said, it's these types of weather your chimney needs to be protected from the most, which is why investing in regular professional care is imperative.
Basically… if you want your chimney and fireplace to properly do its job, you have to do what you can to protect it!
Here in Memphis and its surrounding areas, we're no strangers to rainfall and snow, so chimney leak repairs and preventive maintenance is one job our techs take seriously. If you need care, call in our honest and reliable crew right away.
Why Is My Chimney Leaking?
There are four key areas of your chimney that most affect its relationship with water – the chimney cap, the crown, the flashing, and the masonry. If these areas are in good working order, you can rest assured your chimney and fireplace will stand strong and look great for years to come. But if any of them are damaged or compromised, your system is bound to suffer. Fortunately, we're equipped to protect them all.
Our leaky chimney repair services include: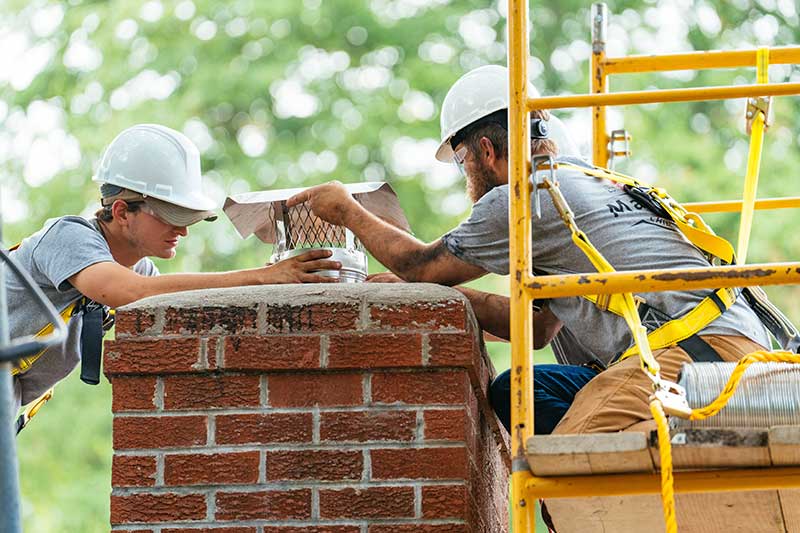 Our Craftsmen Offer Quality Solutions
A leaking chimney can cause thousands of dollars in damage if not corrected as soon as possible, so this isn't a job to put off. If you need chimney repairs, call us in right away to correct them, then ask for our leak prevention services, so you can use your system with peace of mind in the years ahead.
Call 901-443-1036 or reach out online today.
Annual chimney inspections can go a long way toward minimizing the need for expensive chimney and fireplace services later on.