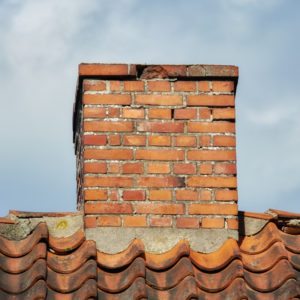 Masonry chimneys have reputations for standing the test of time, but as the years go by the mortar between the bricks can deteriorate and invite in water. Chimney tuckpointing is the process of repairing this mortar and providing a long-term solution to keep your chimney looking good and functioning properly.
If you notice any cracks or crumbling mortar throughout your masonry, it's time to call in a professional for a thorough inspection. At Madewell Masonry, we can look things over, then provide the necessary repairs to keep your chimney in tip-top shape for the long haul.
The Anatomy of a Masonry Chimney
A masonry chimney is typically composed of three parts: the firebox, where the fire burns; the flue, which guides smoke and gases up and out of the chimney; and the exterior shell, which protects the flue from harsh weather and strong winds. The exterior shell is also what you see when you look at a chimney from the outside.
The chimney exterior is composed of bricks, stones, or blocks that are held together with mortar. Over time, the mortar and bricks can deteriorate due to weathering, water damage, and the freeze/thaw process. When this happens, it's called spalling. Spalling is when the bricks to crack, crumble, and fall off the chimney.
Now, a broken down chimney is never a good sight, but fortunately, our techs are here to help.
When You Need Chimney Tuckpointing
You need chimney tuckpointing when the mortar between the bricks in your chimney starts to crack and crumble. When this happens, your chimney will be more prone to moisture-related damage as water fills into the newly formed cracks. When this water freezes and expands in the winter, the damage will worsen, eventually making your chimney more prone to gas leaks and other hazards.
Water in your chimney can also cause the wood around your fireplace to rot, invite mold growth, cause rust to form, increase your risk of clogs, and more. In the end, both your home and your chimney will suffer for it. Ensure your system stays in the best condition possible by investing in our leak repair and prevention services. We can set you up with a properly-fitted chimney cap, ensure your crown is built right, install new flashing, and more.
Understanding the Tuckpointing Process
So, what can you expect when we come to tuckpoint your chimney?
First, we'll remove the existing mortar joints, using tools such as an angle grinder or the classic hammer and chisel combination.
Next, we'll clean the surface to prepare for the addition of the new mortar, along with any new bricks.
We'll then mix the new mortar to match your current brick color by blending mortar pigment. This takes time, patience, and professional know-how to get it just right.
We'll use the new mortar to fill in the joints, smoothing it out or slightly indenting it, depending on your design/aesthetic preferences.
When the new mortar has hardened halfway, we'll use a straightedge tuckpointing tool to create straight lines in the spaces of the newly filled joints. We also apply putty to the lines to create a contrast.
After the new mortar has completely hardened, we'll use a wire brush to remove any loose debris.
Finally, we'll seal the entire chimney to protect it from weathering.
The Importance of Chimney Waterproofing
Once your tuckpointing work is completed, you should be good to go. …right? Well, don't forget one last important step – waterproofing.
Your chimney is constantly exposed to the elements and, as stated above, water and your masonry chimney don't exactly make a great combination. That's why waterproofing services are such an important investment. Once your masonry repairs are completed, ensure they stay protected and looking great by scheduling waterproofing right away.
Our waterproofing products guarantee years of lasting protection, while still allowing your chimney the ability to breath and vent out all of that pre-absorbed moisture. Other products tend to simply trap all the water inside, where it will only continue to break things down.
Masonry Experts are Just a Call Away
If you are concerned about the condition of your chimney, or if you have noticed any cracks or gaps in the masonry, it's important to call in an expert as soon as possible. Waiting too long can allow further damage to occur, and can even lead to more expensive repairs down the line – potentially even a complete chimney rebuild.
Our chimney tuckpointing professionals are here to help Memphis homeowners with any and all of their masonry repair needs. We have over 40 years of experience in the industry, and our brick and stone masons are experts at their craft. There is no job too big or small that our masonry experts can't handle.
Reach out to us online or give us a call at 901-443-1036 to schedule a consultation. We'd love to speak with you soon.