Spring is in the air, and for many homeowners the longer daylight hours mean increased energy for home repairs that were set aside during the winter months.
We get it! This is an excellent time to attend to many systems in your home – and that includes your chimney system. You won't be using it for several months, but that doesn't mean you should put this important home heating system out of your mind. If your chimney masonry is in need of repair – or any other area of your home, for that matter – springtime is ideal for turning your attention to it.
Why Is Springtime Great for Masonry Repair Services?
So, why do we urge homeowners in the Memphis area to get this work done now?
✓ Utilize the time between burning seasons
One reason spring is a useful window for chimney repairs is simply because you aren't using your fireplace. If a masonry repair is in order, it will render your fireplace, furnace, or wood stove unusable for the duration of the repair. But since winter burning season is over, you've probably cleaned out your fireplace and wood stove in preparation for a dormant season anyway.
So, why not use that time to get it in tip-top shape for next burning season? Being proactive about repairs lowers the risk that damages will creep into the time you're itching to use your chimney system. It also allows a window of time after repairs have been complete to have your chimney waterproofed to further protect your chimney from the elements, strengthening and increasing the longevity of your masonry chimney.
✓ The time is right for curing
Depending on the nature of the masonry work at hand, your existing bricks will either be used or replaced (or in the case of a new build, you'll be starting entirely from scratch). In either case, your mortar will be given some attention. Your chimney professional will grind out old, deteriorating mortar and apply new that's been carefully mixed for your project. But the process isn't over once the mortar is applied – it's at this point that the mortar begins to cure.
The curing process is basically the time during which masonry achieves the desired properties to stand strong for the long haul. For effective curing, the temperatures and humidity levels should both be maintained at moderate levels, and these levels are most likely to occur in – you guessed it – springtime. Successfully cured mortar will bond well, as well as achieve strength and durability that will positively affect the longevity of your project.
If you've missed the spring window, never fear. Discuss an autumn repair with your chimney professional. But keep in mind that waterproofing on the work may need to be delayed, and that you'll likely need to interrupt your fall chimney use.
✓ Greater flexibility is likely
Once the leaves start to turn, visions of cozy fires prompt homeowners to get their chimneys ready for their furnace, wood stove, and fireplace use. This makes fall a busy season for chimney sweep technicians!
In contrast, booking repairs in spring often means greater simplicity and flexibility for getting on our schedule books. And since your technician is less likely to have a cramped schedule, it means greater likelihood of getting the project underway and completed quickly.
✓ Staying ahead of weather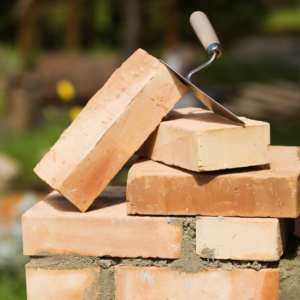 Even though bricks and mortar are durable, they aren't impervious to weather and environmental factors. Over time, the elements can cause wear, cracking, and decay. Because spring gifts us with daylight and mild weather, it's a great time to take stock of how your masonry is holding up before any potential issues are exacerbated by additional exposure.
When chimney system concerns are identified and addressed early, they tend to be less labor-intensive, time-consuming, and costly to fix. Left unchecked, they can lead to leaks and hazards that cause more extensive damage.
In short, early action best protects your investment in your home. This is why annual chimney inspections are the standard upheld by the Chimney Safety Institute of America (CSIA), whether a chimney has been used the previous year or not. Before your chimney weathers another hot summer and windy winter, give it any TLC it requires to keep serving you optimally for years to come.
We Offer Quality Work – Guaranteed
If your last chimney inspection revealed a need for some masonry work, if your outdoor fire pit needs repair, or if you have other masonry repair needs, don't hesitate to give us a call. We have over 40 years of experience in masonry work, and we're so confident in our ability to produce quality results – all of which we offer a 10-year workmanship guarantee on.
We're attentive to our customer's wishes and highly competent in identifying and executing solutions, and our transparent pricing means you won't be surprised with hidden costs. With favorable weather and advantageous timing, your spring repairs will ensure your home heating appliance and chimney are ready to be enjoyed when summer fades to fall.
Questions? Give our friendly technicians a call at 901-443-1036 or book online today to see how we can serve you.